Contact UnholyJobs if you're curious…
Thank you for your interest in UnholyJobs.com. We are always welcoming of media attention and are willing to give interviews and correspond with the public or media on any issues. UnholyJobs.com is a fast growing, safe place for adults to post help wanted ads and apply to adult job ads – basically, cool jobs for cool people.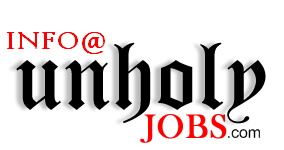 We are always willing to entertain joint venture or advertising opportunities. If you have any proposals or any general media questions please don't hesitate to contact us via email. The appropriate person or department will reply to you faster than you expect.
If you have placed an adult classified but it has not yet been approved it may simply be taking us a while to confirm your application and/or your site. If you would like to speed the process along, please contact us using the email address listed below in the image.
CONTACT US
We Will Reply Faster Than You Expect
Before using our contact page, and you have a question about our rules about posting jobs:
Online applications will be sent to a company email address only. In our efforts to keep applicants safe, UnholyJobs will not accept job orders with an email address from free email sites. Your email address should be from your website. Your website must also not be under construction, nor can your web site be a link to an affiliate site.